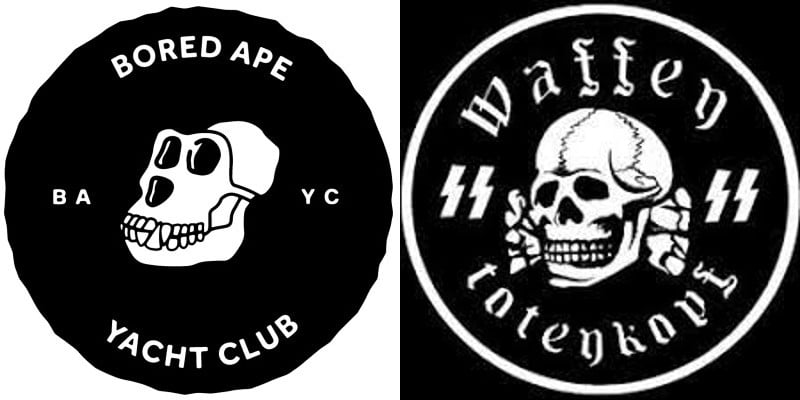 Cryptocurrency
Yuga Labs has defended itself against claims that Nazi imagery was embedded into the artwork of its popular Bored Ape Yacht Club NFT collection.
Artist Ryder Ripps alleged earlier this year that the digital apes depict racist caricatures of black and Asian people, while drawing comparisons between the project's logo and the Nazi Totenkopf skull and crossbones symbol.
After YouTuber Philion published a video exploring the supposed evidence, Yuga Labs co-founder Gordon Goner said the team decided to clear the air.
"We've not responded in further detail to these allegations because frankly they are insanely far-fetched," he said on Medium.
"That said, we woke up this morning to a podcaster we respect talking about this conspiracy theory, and that was pretty surreal. Made us feel like it was time to come out and put an end to all this."
Ripps links to his dossier of 'evidence' at the website – gordongoner.com – from his Twitter account, labelling BAYC as 'racist'.
Yuga Labs said it had taken legal action and filed a lawsuit to "stop the continuous infringement, and other illegal attempts to bring harm" to the firm and community, although there were no further details on who or what it had taken the action against.
Ripps has created his own collection of NFTs, branded RR/BAYC, satirising the BAYC apes. Despite being removed from NFT platforms such as OpenSea and Foundation, the 10,000 pieces sold out, earning him an estimated $1.8 million. Yuga Labs said this was "ill-gotten profit".
Crawley Town to sell NFT third kit
Crawley Town FC is to make its third kit an NFT exclusive.
Fans wishing to purchase the kit will have to also buy the corresponding NFT.
The League Two club was acquired by cryptocurrency firm WAGMI last year.
In Crypto: Tether to launch pound-pegged stablecoin GBPT
Cryptocurrency shorts
The number of Bitcoins held on centralised exchanges has dropped to the lowest level since 2018. The Glassnode data shows how users are reacting after crypto lenders including Celsius and Babel Finance halted withdrawals.
In recent weeks the sales volume on Ethereum-based NFT marketplace X2Y2 has surged past OpenSea, according to data from DappRadar. 
Cryptocurrency exchange Binance is launching a platform for VIP and institutional users – 'Binance Institutional'. It will reward users with more discounts and other privileges.
'We're missing a trick': Tory politicians call for UK to embrace crypto
Crypto prices
The overall market cap of the more than 20,000 coins is at $951.9 billion at the time of writing (7am UK), up from $937.2bn on Friday morning.
Market leader Bitcoin – the original cryptocurrency created by the mysterious Satoshi Nakamoto – gained $60 over the last three days to $21,185. BTC is 6% up in a week.
Ethereum, the second most valuable crypto coin – created as a decentralised network for smart contracts on the blockchain – added $75 to around $1,215. ETH is 13% up over the course of a week.
Binance Coin is a cryptocurrency created by popular crypto exchange Binance to assist its aim in becoming the infrastructure services provider for the entire blockchain ecosystem. Its BNB token gained $8 to $238, leaving it 14% up over seven days.
Cardano is an open source network facilitating dApps which considers itself to be an updated version of Ethereum. Its ADA token, designed to allow owners to participate in the operation of the network, gained 1 cent to almost 50c and is 6% up over the course of a week.
The XRP token of Ripple, a payment settlement asset exchange and remittance system, acts as a bridge for transfers between other currencies. XRP climbed slightly to remain around 36c while its price is 14% up on seven days ago. It has fallen back below Cardano in the valuation table by market cap.
Solana is a blockchain built to make decentralised finance accessible on a larger scale – and capable of processing 50,000 transactions per second. Its SOL token grew $2 to $40 and is 24% up compared with its price a week ago.
Meme coin DOGE was created as a satire on the hype surrounding cryptocurrencies but is now a major player in the space. DOGE added 1.2c to 7.7c, leaving it 32% up in a week. 
Polkadot was founded by the Swiss-based Web3 Foundation as an open-source project to develop a decentralised web. Its DOT token, which aims to securely connect blockchains, gained 10c to $7.95 and is 8% up on its price a week ago.
Avalanche is a lightning-quick verifiable platform for institutions, enterprises and governments. Its AVAX token leapt 44c to $20.21 and is 30% up in a week.
To see how the valuations of the main coins have changed in recent times – and for round-ups of recent cryptocurrency news developments – click here.
For valuations of the top 100 coins by market cap in US dollars, plus 24-hour price change, see below.