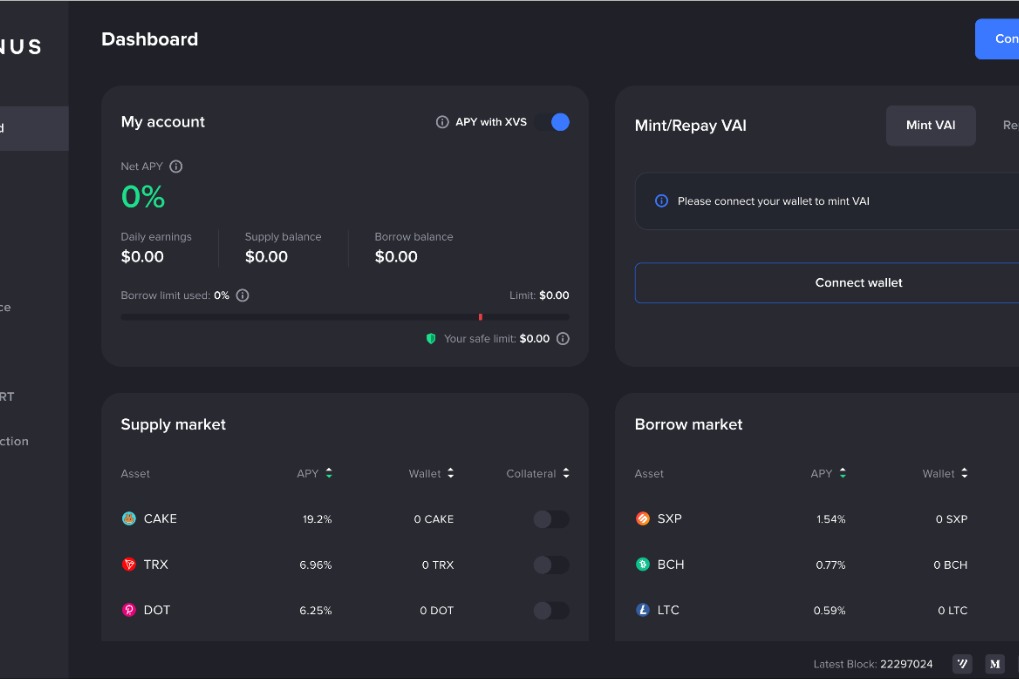 Venus Protocol, a leading lending protocol on BNB Chain, is getting ready to launch a suite of new upgrades in the latest version of its popular crypto lending platform. The many upgrades are aimed at giving users more security, more trading options, and more opportunities to generate yield on their assets. Here's a quick rundown of some of the biggest changes users can expect in Venus v4.
A New Risk Dashboard
One of the biggest upgrades that will come with v4 is the dynamic risk-management system being developed in partnership with Gauntlet, a simulation platform for on-chain risk management. Users will gain access to a new Risk Dashboard that will display three risk metrics: value at risk (VaR), liquidation at risk (LaR) and Borrow Usage. VaR is a measure of capital at risk because of insolvency — when a borrower is unable to pay their debt. LaR is a measure of capital at risk because of liquidations — when large-scale selloffs make it harder to find buyers for a particular currency. Finally, Borrow Usage is a measure of how aggressively depositors are borrowing against the collateral supplied.
These metrics will be shown for each asset as well as aggregated into a system-level measure for all assets in Venus. The hope is that the Venus community can use that asset-level and system-level risk data both to make better-informed lending and borrowing decisions and to see the impact of the new parameters recommended via the testing done with Gauntlet.
A Large Pool Of New Tokens Will Be Available To Venus Protocol Users
Another exciting feature of the v4 upgrade in development is the introduction of Isolated Markets. Under the current common collateral pool model, users are limited to a handful of the least risky assets. This is because, in a common pool, every asset in the pool is vulnerable to bankruptcies in any other asset in that same pool. So common pools tend to skew conservative as a way to reduce risk. For those interested in trading newer or riskier tokens, there aren't as many options available. 
Venus Protocol's upcoming isolated lending pools would provide segregated risk by separating those riskier tokens into their own pools. That segregated risk protects the common pool from the risk of those assets inside Isolated Markets. This will create independent lending environments that shield the common pool from exposure to those riskier tokens while giving users the ability to choose which pools to participate in based on their own personal risk profiles. 
The Venus team expects this update to gradually bring most of the more liquid tokens on BNB Chain into the lending protocol, where they will then be separated into pools based on shared risk profiles. Each pool will also be given a risk rating so users can easily compare the performance and risk of each pool. 
The PancakeSwap Integration Will Offer A Built-In DEX
The integration of PancakeSwap, a popular decentralized exchange on BNB Chain, will add a swap page to the Venus dashboard where users can swap tokens they already hold and supply to Venus without leaving the Venus user interface (UI) they're familiar with. The upgrade is a big deal for Venus users and a huge leap in the DeFi space as a whole because no other app supports that kind of swap functionality inside a lending protocol. 
As the crypto landscape continues to expand with new tokens being added, decentralized exchanges (DEXes) have been a key means of trading those tokens directly between crypto traders. A standalone DEX establishes the prices of various cryptocurrencies algorithmically and uses liquidity pools to facilitate trades so that traders can quickly exchange crypto. 
The Venus team is excited to finally offer a more seamless alternative. With v4, Venus would become the very first protocol to provide both crypto borrowing and lending and the ability to swap tokens in the same UI. 
An Adjustable Stability Fee For VAI
VAI is Venus' stablecoin, a coin whose value is pegged to another asset like a fiat currency, a commodity, or another cryptocurrency. In 2021, VAI lost its peg because the stablecoin was oversupplied in the market. Since then, the team has been looking for a way to solve this off-peg problem.
The solution: a modified form of the Stability Fee, in which users pay interest for minting new VAI. When the market is oversupplied, the interest rate on minting VAI will increase. When supply is too low, the rate will drop to encourage new VAI minting. The income generated from that interest will go into the Venus Treasury as a new source of income for users. 
Stable Rate
Venus' Stable Rate enhancement will allow users to borrow and lend with more confidence. Users will face less uncertainty, especially under volatile market conditions. This will allow for better investment forecasting.
Stable rates will also allow users to manage account health more easily. Suppliers will not face the frustration of declining APY. Venus's Stable Rate solution is expected to be more affordable than others on the market, and that edge should bring more users to Venus Protocol.
Venus Tokenomics 3.0
Venus' latest upgrade to its tokenomics — or the overarching structure of a cryptocurrency's economy, including mining and staking, supply limits, and yields — has been hotly anticipated by its community for a long time. 
The v4 (Tokenomics 3.0) upgrade will finally mark the end of that long wait. The biggest changes in Venus Tokenomics 3.0 are all aimed at incentivizing protocol retention, reinvesting value, creating flywheels and embedding better shortfall defense. 
That includes the introduction of the Venus Prime Soulbound Token (SBT), a new mechanism for incentivizing loyalty. The non-transferrable Venus Prime tokens are earned by staking XVS in the vault for 90 days and maintaining a minimum stake of 1,000 tokens. Once earned, the SBTs give users access to variable boosted yield across selected markets, which will be paid out in the currency being borrowed or supplied. 
Featured photo provided by Venus Protocol
This post contains sponsored advertising content. This content is for informational purposes only and is not intended to be investing advice.