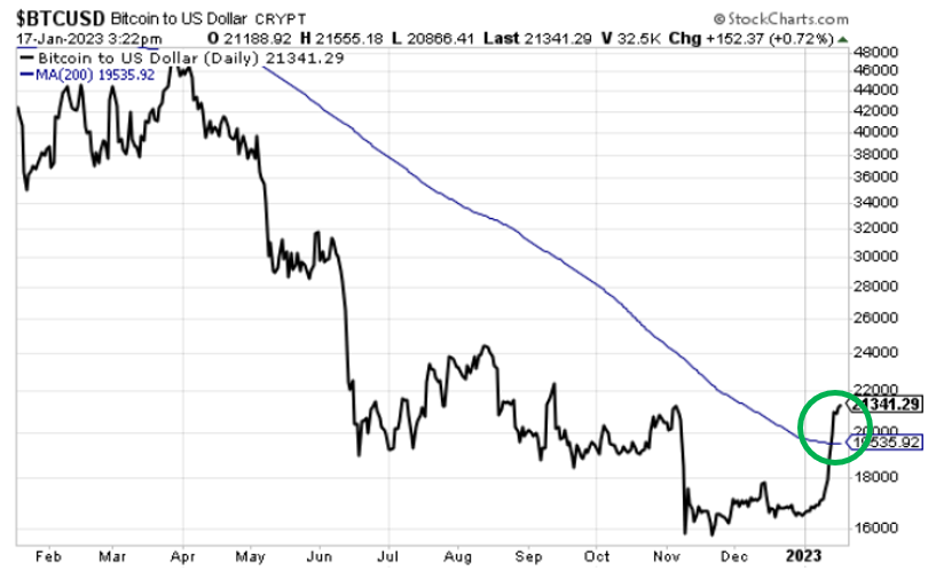 Bitcoin, Ethereum, and various altcoins are exploding higher … technical indicators are turning bullish … look for a near-term pullback … Luke Lango's coming buying spree
Brace yourself…
As I write Tuesday morning, Bitcoin is up 28% on the year.
Ethereum is coming in even higher, up nearly 32%.
And beaten-down Solana has already more than doubled, returning 135% so far in 2023.
What's going on here?
In last Wednesday's Digest, we discussed how crypto was "dead," which meant it's probably about time to take a hard look at it.
In that Digest, we analyzed the sector with our crypto expert Luke Lango, who – while bullish – was waiting for bitcoin to top $20,000 as a confirmation that this latest strength has legs.
Well, we crossed that "$20,000" hurdle over the weekend. In fact, bitcoin is now over $21,000.
So, we ask again: What's going on here? Is this the beginning of the next great bull market?
Let's jump to Luke's Saturday Crypto Investor Network update:
Do you feel that? 
That's what the beginning of a new crypto boom cycle feels like.
This is as hot as cryptos have been during the bear market.
Yes, we've had multiple countertrend rallies over the past year. 
But none of them were like this one.
For example, Bitcoin has now retaken its 200-day moving average (MA) for the first time in this bear market.
That is, in all of the previous countertrend rallies of the past year, BTC never retook its 200-day moving average. Now, though, it has – underscoring why this rally feels like the "big one."
To make sure we're all on the same page, a 200-day moving average is a line on a chart showing the average of the prior 200 days' worth of stock prices. It's an important psychological line-in-the-sand for investors and traders.
Many trading algorithms base their buy-and-sell decisions on the interplay between an asset's price and its 200-day moving average. So, the fact that bitcoin's price has climbed back above this average is certainly noteworthy – and bullish.
Here's how this looks.
A critical next step will be for bitcoin to give back some recent gains, fall to this 200-day MA, then use it as a springboard to bounce and continue climbing higher.
Another bullish aspect of this 200-day MA is that during the 2018-2019 bear market, bitcoin traded below its 200-day MA for 386 days.
And how long did bitcoin remain beneath its 200-day MA this time around?
381 days.
This doesn't guarantee that bitcoin has bottomed, but it's a very positive sign.
This 200-day MA recapture isn't the only bullish technical indicator Luke has identified
Back to his update:
BTC has also now broken above its bear market downtrend line for the first time in this cycle.
Not to mention, the descending triangle convergence pattern we have shown you multiple times over the past few months is now breaking.
Instead of BTC breaking down out of these triangle convergences, BTC is now – for the first time in this bear market – breaking out of a descending triangle convergence.
Everything about the current BTC breakout feels different that previous breakouts.
The latest from blockchain data analytics group Glassnode supports Luke's takeaway.
From Glassnode Insights yesterday:
After one of the least volatile months in history, Bitcoin has seen an explosive rally back above $21k.
This puts the average BTC holder, and mining operation back into the black, making this rally stand out from all those seen in 2022…
[This rally has push bitcoin's price] through several widely observed technical and on-chain pricing models.
Many of these models tend to act as significant psychological resistance levels during bear markets, which makes this particular event noteworthy.
This is not an "all clear" signal for investors to cannonball back into the sector
As you know, crypto is incredibly volatile. Double-digit intraday moves (up or down) are common. So, please pick any crypto investment wisely and be measured with your dollar allocation.
Also, take into account that after this latest run, bitcoin is overbought and likely needs to trade lower as it consolidates recent gains.
To illustrate, below we look at the same bitcoin chart as above, adding its Relative Strength Index (RSI) reading in the lower pane.
Any reading over "70" is "overbought." As I write, bitcoin's RSI reading is 89 and appears to be plateauing. That suggests short-term weakness.
So, don't be surprised to see a pullback toward $20,000.
That said, this latest bitcoin surge is different, and investors should notice.
Back to Luke with more on this difference:
This, folks, is not just another countertrend rally in cryptos. It's the start of a new boom cycle.
Right now, we're checking all the boxes consistent with a transition from a bust cycle to a boom cycle.
Typically, Bitcoin falls about 80% during a bust cycle. We dropped about 75% at the low. Check.
These bust cycles tend to last about 50 to 60 weeks. We are around 60 weeks into the current bust cycle. Check.
Bust cycles tend to end – and new boom cycles tend to start – about 12 to 16 months before a halving. We're 15 months before the Fourth Halving. Check.
Bust cycles also tend to end once M2 money supply growth starts turning up. That's about to turn up over the next few months. Check.
Put it all together and Luke believes we're now entering the fourth crypto boom cycle
His analysis concludes that it's time to start getting aggressive with the sector.
In fact, he's so convinced that a "buy" moment is upon us, that he and his team are putting together a special report on the top cryptos to own for this budding bull cycle.
From Luke:
We've been saying for weeks that we plan to launch a big altcoin buying spree once we became exceedingly confident that we are, indeed, entering a new boom cycle.
We are at that point now.
To join Luke in Crypto Investor Network to get this special report when it's available, click here. If you'd rather wade into the sector on your own, the safest bet is to stick with the largest, most liquid coins. We're talking bitcoin, Ethereum, Tether – basically, the big dogs.
While that likely means you won't see the most explosive returns (look at the recent difference between bitcoin's 28% on the year versus Solana's 135% gain), sticking with the largest cryptos is likely to bring a greater margin of safety.
To help you, here are the largest cryptos by market cap today:
Bitcoin (BTC)
Ethereum (ETH)
Tether (USDT)
BNB (BNB)
USD Coin (USDC)
XRP (XRP)
Binance USD BUSD)
Cardano (ADA)
Dogecoin (DOGE)
Polygon (MATIC)
We'll give Luke the final word:
As we've mentioned before, cryptos have this tendency to follow a quasi-predictable boom-bust-boom pattern.
These cycles tend to be quite hyperbolic.
During bust cycles, cryptos are crushed like they have no future. During boom cycles, they soar like they're taking over the world.
The key to being a successful crypto investor, then, is to invest in cryptos when bust cycles turn into boom cycles.
The fourth crypto boom cycle is upon us. It's time to take advantage.
Have a good evening,
Jeff Remsburg