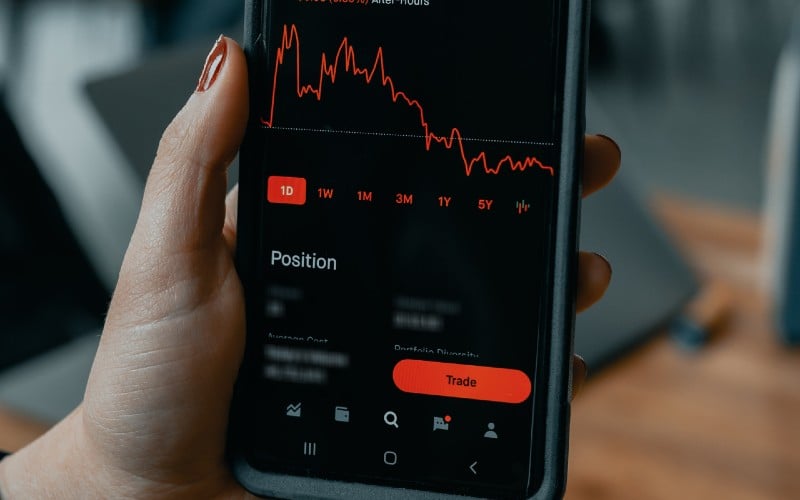 Cryptocurrency
Terra (LUNA) shed half of its value in the last 24 hours, causing the TerraUSD stablecoin to lose its $1 peg.
The bloodbath – which comes amid a larger cryptocurrency market freefall – was caused by a large sell-off of the LUNA token.
Terra, described as a programmable money for the internet, was already falling towards the end of the weekend but entered a huge tailspin on Monday and dropped below $32 early on Tuesday. 
More than $10 billion of the tokens have been traded in the last 24 hours, compared with just $2bn apiece for Polkadot (DOT) and Shiba Inu (SHIB), the coins closest in value in the market cap valuation table.
Its market cap has dropped below that of Cardano (ADA), Avalanche (AVAX), Dogecoin (DOGE) and DOT in recent times.
Observers questioned whether its sister stablecoin TerraUSD (UST) was fit for purpose, given that it is backed by LUNA reserves yet has a market cap of $16bn, $5bn more than LUNA.
Stablecoins, which allow investors to cash out of digital currencies without leaving the crypto ecosystem – effectively a place to shelter before reinvesting or exiting into fiat currencies such as the US dollar – seek to maintain a 'peg' value of $1, usually by holding the equivalent value of the currency in traditional assets. 
However UST, the third-largest stablecoin by market cap, relies upon LUNA and Bitcoin (BTC) reserves to maintain its peg. It dropped as low as 68 cents on Monday and currently stands at 89c.
The Luna Foundation Guard (LFG), which is in charge of ensuring UST maintains its peg to the dollar, deployed $1.5bn worth of BTC on Monday to add liquidity to the ecosystem. 
LFG also loaned out coins to trading firms and 750 million UST tokens to accumulate BTC.
Do Kwon, founder of Terraform Labs – which powers the Terra blockchain – tweeted: "Deploying more capital – Steady lads."
Bitcoin drops below $30k
Bitcoin (BTC) fell below $30,000 for the first time since July 2021 as both the cryptocurrency and traditional financial markets suffered from a sell-off caused by the US Federal Reserve's aggressive monetary tightening.
As happened 10 months ago, BTC has rebounded from the sub-$30k position to above $32,000.
For a full round-up of the latest prices and 24-hour movements, scroll down.
Cryptocurrency shorts
More than 455 million websites powered by content management system WordPress can now accept Dogecoin using the WooCommerce plugin 'Easy Dogecoin Gateway'.
Authorities in India are considering an additional 28% Goods and Services Tax on cryptocurrencies, bracketing them in the same category as lottery, casinos, racecourses and betting.
Instagram has unveiled 'Digital Collectibles', its play to get into the non-fungible tokens trading space. The Meta-owned social media platform will initially only allow a handful of creators to share their digital art on the platform, with no money changing hands, but hopes to turn it into a revenue stream for creators in the long run.
El Salvador 'bought the Bitcoin dip' by snapping up 500 BTC, according to a tweet from President Nayib Bukele.
Play-to-earn Solana blockchain game Nyan Heroes – which features cats operating robots – has raised $7.5m from venture capital firms Kosmos Ventures, Sino Global Capital, Shima Capital and Petrock Capital. The game is expected to launch before the end of the year.
Paris-based Arianee, a platform for linking NFTs to luxury brands, has raised $21m in a funding round led by Tiger Global.
Bitstamp, one of the oldest crypto exchanges, has announced the appointment of Jean-Baptiste Graftieaux as its new global CEO following the departure of Julian Sawyer.
Spanish football club Espanyol, based in Barcelona, will become the first La Liga side to accept bitcoin and other cryptocurrencies for the purchasing of tickets, merchandising and refreshments.
Crypto prices
The overall market cap of the more than 19,300 coins is at $1.47 trillion, a 4% decrease in the last 24 hours.
Market leader Bitcoin – the original cryptocurrency created by the mysterious Satoshi Nakamoto – fell 3% in the last 24 hours to around $32,450 at the time of writing (7.30am UK), having briefly dipped below $30k. BTC is down 16% in a week.
Ethereum, the second most valuable crypto coin – created as a decentralised network for smart contracts on the blockchain – shed 1% to around $2,425. ETH is 15% down over the course of a week.
Binance Coin is a cryptocurrency created by popular crypto exchange Binance to assist its aim in becoming the infrastructure services provider for the entire blockchain ecosystem. Its BNB token lost 4% to $329, leaving it 16% down over seven days.
The XRP token of Ripple, a payment settlement asset exchange and remittance system, acts as a bridge for transfers between other currencies. XRP dropped 6% to 53 cents, which leaves it 14% down over seven days.
Solana is a blockchain built to make decentralised finance accessible on a larger scale – and capable of processing 50,000 transactions per second. Its SOL token dumped 4% to $71 and is down 20% compared with a week ago.
Cardano is an open source network facilitating dApps which considers itself to be an updated version of Ethereum. Its ADA token, designed to allow owners to participate in the operation of the network, dropped 3% to 67c. It is 14% down over the course of a week.
Meme coin DOGE was created as a satire on the hype surrounding cryptocurrencies but is now a major player in the space. DOGE fell 5% to 11.5c, leaving it 12% down in a week.
Avalanche is a lightning-quick verifiable platform for institutions, enterprises and governments. Its AVAX token dropped 5% to below $48 and is 22% down in a week.
Terra, described as a programmable money for the internet, lost a massive 44% to below $35 and at one point was around $32. Its payment token LUNA is 59% lower than its price a week ago.
Polkadot was founded by the Swiss-based Web3 Foundation as an open-source project to develop a decentralised web. Its DOT token, which aims to securely connect blockchains, fell 6% to $12 and is 21% lower than its price a week ago.
To see how the valuations of the main coins have changed in recent times – and for round-ups of recent cryptocurrency news developments – click here.
For valuations of the top 100 coins by market cap in US dollars, plus 24-hour price change, see below.