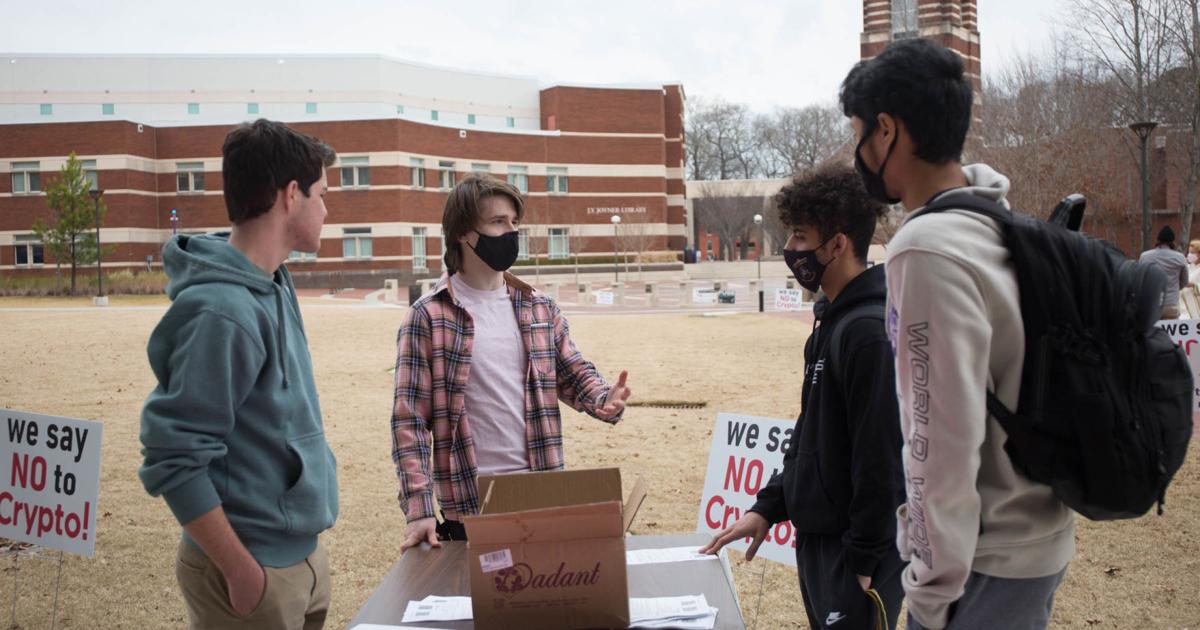 Opponents of cryptocurrency mining gathered at East Carolina University on Thursday to rally the support of students against a proposal going before a virtual meeting of the Greenville City Council.
A small group of organizers posted up between ECU's Main Campus Student Center and Joyner Library at 1 p.m., about a half an hour after ECU announced it was cancelling Friday classes due to expected inclement winter weather. Few students stopped at the rally site, but they did accept fliers from Chad Carwein, one of the organizers.
That the students accepted the flier, which had information about cryptocurrency mining and QR codes with a link to a change.org petition and the city council's meeting information, was positive, said Carwein.
"They have so much information coming at them from so many sources, if they can take some time today to get some information …. I think it's a win," he said. Many people don't seem to know much about cryptocurrency," he said.
"They don't know where it comes from or how much energy it uses," Carwein said. They were surprised to learn a bitcoin transaction uses as much energy as a household does in one month, he said. The data came from Digiconomist.com, a website "dedicated to exposing the unintended consequences of digital trends."
"All of a sudden their jaws drop, their eyes open up and they are paying attention," he said.
Carwein is ECU's sustainability manager, coordinating efforts to reduce energy usage and address other environmental challenges. Carwein said Thursday he wasn't on duty and was participating as a private citizen.
Monday's 6 p.m. City Council meeting will include a public hearing on a request to establish "modular data processing facility" and "data processing center" as two new uses in the city code and to define the associated standards and zoning districts where they will be permitted.
The data processing that occurs at these locations involves large groups of computer systems and accessory components that are used for "remote storage, processing or distribution of large amounts of data," such as the computer processing needed for cryptocurrency mining.
A Minnesota-based company, Compute North, sought to open an 89-unit modular data processing site on property near Belvoir Elementary School in the fall. The company withdrew its request after encountering intense opposition from parents whose children attend the school and neighboring residents.
Opponents raised concerns about noise from more than 1,000 fans used to cool the computing equipment and the amount of electricity the facility would require. There have been some locations that saw electric rates increase because the facilities drew too much power.
Greenville Utilities Commission said that will not happen locally because it has access to enough electricity to meet Compute North's needs.
In December staff brought a request to Greenville's Planning and Zoning Commission to amend the city rules permitting such a facility to operate in or near the city. Compute North confirmed it is working with local officials to find property in areas with industrial zoning to locate.
Opponents still worry about negative effects from its operation because some industrial zoned areas are near houses.
"We're trying to address Greenville allowing cryptomining to happen in our community. It's effects are not well known and the (effects) that are known are not beneficial," said Owen Bergquist, one of the organizers of Thursday's event.
Crypto mining uses a lot of electricity to verify transactions, Bergquist said. GUC's electric supply comes from providers that use fossil fuels.
"When these high energy computations are being used to validate transactions with cryptocurrency that is putting a lot of CO2 (carbon dioxide) into the atmosphere and setting us back on our energy goals," Bergquist said.
Monday's council meeting begins at 6 p.m. and is being held remotely via Zoom. It was originally scheduled for Jan. 13 but postponed because of COVID safety protocols.
Anyone who wants to participate in the public hearing can sign up at www.greenvillenc.gov on the "city council meetings" page. People who want to submit written comments for public hearings should submit them no later than 6 p.m. Sunday to the Public Input mailbox at publicinput@greenvillenc.gov.
The proposed rule changes that supports cryptocurrency mining is one of 12 public hearings scheduled for Monday.
The other public hearing involved:
A request from Patheon Manufacturing Services to obtain a $500,000 incentive over a six-year period that is linked to job creation.
Request to close a portion of Truman Street.
Request to close a portion of Line Avenue.
Annexation of 29.13 acres located at the terminus of Cobblestone Drive.
Annexation of 1.577 acres owned by Craig F. Goess and Craig M. Goess, at the northwestern corner of the intersection of West Arlington Boulevard and Dickinson Avenue.
Annexation of 1.33 acres called Sawgrass Pointe Commercial Center, located near the southeastern corner of the intersection of Davenport Farm Road and Frog Level Road.
Annexation of 17.29 acres for Springshire Retirements, located north of the intersection of N.C. 43 North and Rock Springs Road.
Rezone 23.5 acres along the western right-of-way of Allen Road and adjacent to the Pitt County Landfill from residential-agricultural to heavy commercial for 3.82 acres and unoffensive industry for 19.7 acres.
Rezone 66.9 acres along the western right-of-way of Allen Road and adjacent to the Pitt County Landfill from residential-agriculture to heavy commercial for 6.7 acres and unoffensive industry for 60.2 acres.
Request to amend the city's amend the Future Land Use and Character Map for 50 acres located along the northern right-of-way of Frog Level Road and adjacent to Teakwood Green Subdivision from commercial and potential conservation/open space to residential, low-medium density.
Staff requests to make miscellaneous changes to city zoning ordinance.
Other business on Thursday's agenda includes:
Presentation of the city's fiscal year 2020-21 financial audit.
Resolution authorizing a lease agreement with American Legion Post 160 for city-owned property and improvements for the Lucille W. Gorham Intergenerational Center Chapel, 1124 W. Fifth St.
Updated agreements with the N.C. Department of Transportation for the Dickinson Avenue Modernization Project.
Resolution approving the granting of easements to the N.C. Department of Transportation for the Dickinson Avenue Modernization Project.