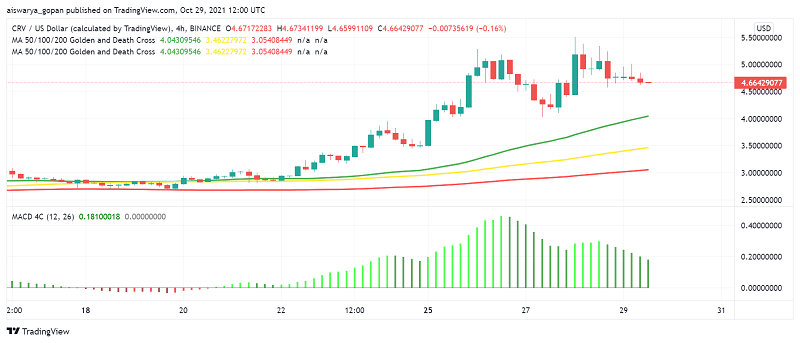 The memecoin rally may have kept the spotlight on Shiba Inu over the past week, but Curve protocol's CRV token has been quietly registering strong gains away from the limelight lately. At the time of writing, CRV/USD is trading at around $4.66, up by over 51% in the past seven days.
The second largest DeFi protocol, Curve has a TVL of nearly $19 billion, close behind the leader in the board, Aave. In the past one month, the CRV token has strengthened by over 110%, powered by the increased interest among investors in the DeFi space.
The Curve protocol offers several incentives for long-term holding, giving users the option of multi-year staking on their CRV tokens. This has reduced the circulating supply of the CRV token considerably, making it highly valuable.
According to estimates, almost 89% of the total circulating supply is locked on the Curve protocol, with an average vesting time of 3.68 years, resulting in severe supply shortage which is driving up its value. The supply squeeze has resulted in several leading DeFi platforms offering attractive yields to users willing to stake their CRV holdings with them.
The Role of Convex Finance in Driving Up Curve's CRV
One such platform, Convex Finance is offering its users the option to stake and even earn CRV in addition to rewarding them with their native token – CVX as well as Curve trading fees, thereby maximizing yields in the liquid pools from Curve Finance. According to Defi Llama, the protocol has become the first largest by market cap across the DeFi space, enjoying a TVL of over $13 billion.
Convex has played quite an important role in making CRV even more valuable, letting CRV holders earn incentives without locking their tokens themsevles. In return, it offers high liquidity and rewards with minimal effort, as a result of which the protocol now accounts for over 37% of Curve's governance and higher influence over voting.
CRV/USD Technical Analysis
On the 4-hour chart of CRV/USD, most of the moving averages are indicating a bullish bias. However, some of the smaller timeframe MAs along with leading technical indicators MACD and momentum suggest some selling interest as well.
Curve's price is holding well above the pivot point at $3.37 and has broken past two resistance levels at $4.07 and $4.64 respectively. Further buying pressure can see CRV rise past the key $5 mark soon, and continue the climb until buyers encounter the next resistance at $5.91.