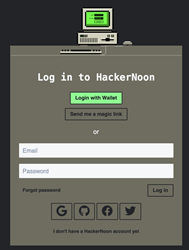 "Identity on the internet! 1.0 is email, 2.0 is social, and 3.0 is the wallet," wrote HackerNoon CEO David Smooke in a HackerNoon Comment.

EDWARDS, Colo. (PRWEB)
April 29, 2022
Technology publishing company HackerNoon, which has clocked over 200M+ readers since their inception in 2016, announced Web3 login support via MetaMask.
Readers and independent tech contributors can now log in to write stories, subscribe to topics, participate in contests, or simply read stories without using web2 technologies such as Google or Facebook logins.
By becoming the first major publication to roll out web3 logins for all users, HackerNoon has put into action their planned implementation of web3 and enabled millions worldwide to make their first interaction with decentralized technologies. Anyone can now log in to their accounts with just their Metamask wallets.
"Identity on the internet! 1.0 is email, 2.0 is social, and 3.0 is the digital wallet," wrote HackerNoon CEO David Smooke in a HackerNoon Comment. "Really exciting for readers, writers, and sponsors to be able to use all HackerNoon has to offer with just a 3.0 identity if they prefer. Or to just connect their wallets to their existing accounts in order to accept writing contests winnings and earn NFTs."
In publishing tens of thousands of stories about the future of technology, HackerNoon has a history of publishing the intricacies of emerging web3 technologies like blockchain, cryptocurrency, and bitcoin.
Now any user who has a MetaMask wallet can use that to log in to HackerNoon. This isn't just an ETH login though, it also supports logging in via any blockchain network supported by Metamask. The HackerNoon post reads "You can link your Metamask, Polygon, or any other wallet that you use to store your crypto! If it can hold Ethereum, Polygon, Chainlink, or USDC, it will work on HackerNoon!"
Any users can add their ETH wallet addresses to their accounts and use them to log in – obviating the need for email-based signups or google auths completely. This offers the privacy of a higher order and enables anonymous teams to publish updates and share their opinions without doxxing themselves. With an ETH wallet as their HackerNoon handle, anonymous teams can prove who they are without the need to explicitly give away their identities.
Web3 login is only the first step in HackerNoon's planned rollout of multiple decentralization initiatives in 2022 and 2023.
More Writing Contests About – and Payments Powered by – Web3

HackerNoon starting writing contests with a combined prize pool of over $144k (so far) in rewards so far. Many of the topics are crypto driven: #decentralized-internet, #web3, #blockchain, etc. The next step is to begin rewarding winners directly into the wallet addresses linked to the winning handles.
This would not just help users get accustomed to owning crypto but would also put a stop to the shady practice of imposters trying to claim a winner's prize money. From a monetarty perspective, sending crypto across borders has been cheaper than wiring FIAT money.
More NFTs as Badges and Awards Ahead

Furthermore, commemorative NFTs were directly airdropped into Noonies 2021 winners' wallets linked to their HackerNoon handles. Community-driven voting driving HackerNoon to award NFTs to the internet's underappreciated pioneers.

Learn more on Noonies.Tech voting site.
About HackerNoon
HackerNoon is built for technologists to read, write, and publish. We are an open and international community of 32,000+ contributing writers publishing stories and have historically served free technology stories to 200M+ beautiful humans of planet earth! Founded in 2016, HackerNoon is an independent technology publishing platform run by David Smooke and Linh Dao Smooke. Get your technology story published today.
Share article on social media or email: