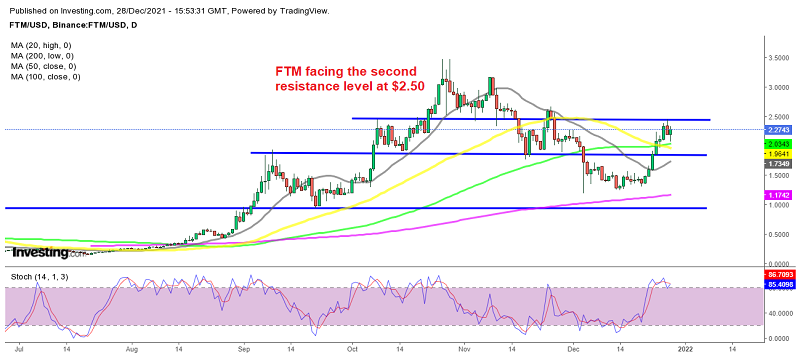 The decline in the crypto market seems to have ended, after a really bearish month in November and early in December. Although the market is not exactly turning bullish, apart from certain crypto coins. Fantom and Polkadot cryptos are among the bullish ones, having resumed the uptrend already last week, so let's see where they are heading to.
Fantom Daily Chart Analysis – FTM Facing $2.50 on the Way Up
Fantom coin made some enormous gains from August until the end of October, increasing more than 10 times in value, with the 20 daily SMA supporting the climb, while previous highs also kept turning into support. FTM/USD reached $3.47 and reversed lower in November, as the crypto market turned bearish.
Fantom lost around 2/3rds of the value, as it retreated to $1.20. We were watching this crypto and were looking to buy at around $1, but the decline didn't stretch that far. Last week we saw a bullish reversal as the sentiment in the crypto market started to improve and Fantom surged to $2.45. This showed strength in Fantom, as the main cryptos didn't gain much, while Fantom almost doubled. Yesterday we saw a small pullback while today buyers are back in charge, so the pressure remains to the upside for this crypto. It should break above $2.50 soon and head for the all-time highs at $3.50.
Polkadot Daily Chart Analysis – DOT Fails the First Attempt at the 50 Daily SMA
Will the 200 SMA hold as support now for Polkadot?
Polkadot launched parachains last month, with Acala, Moonbeam, Parallel Finance, Astar and Clover being the first five to go live on Polkadot's network, offering applications across DeFi, investments, and loans. This will give Blockchain interoperability a significant boost.
Although, this couldn't give the DOT coin a boost last month, as it tumbled from a high of $55 to $24 earlier in December. Although, as the sentiment improved in the crypto market last week, Polkadot reversed higher and pushed above the 200 daily SMA (purple), but it couldn't break above the 50 SMA (yellow). Today DOT/USD is retreating after forming an upside-down hammer yesterday, but this might be a good opportunity to buy Polkadot at the 200 SMA if it holds as support. If not, then this month's low ar $24 should be the next good level to buy DOT coins.
DOT/USD