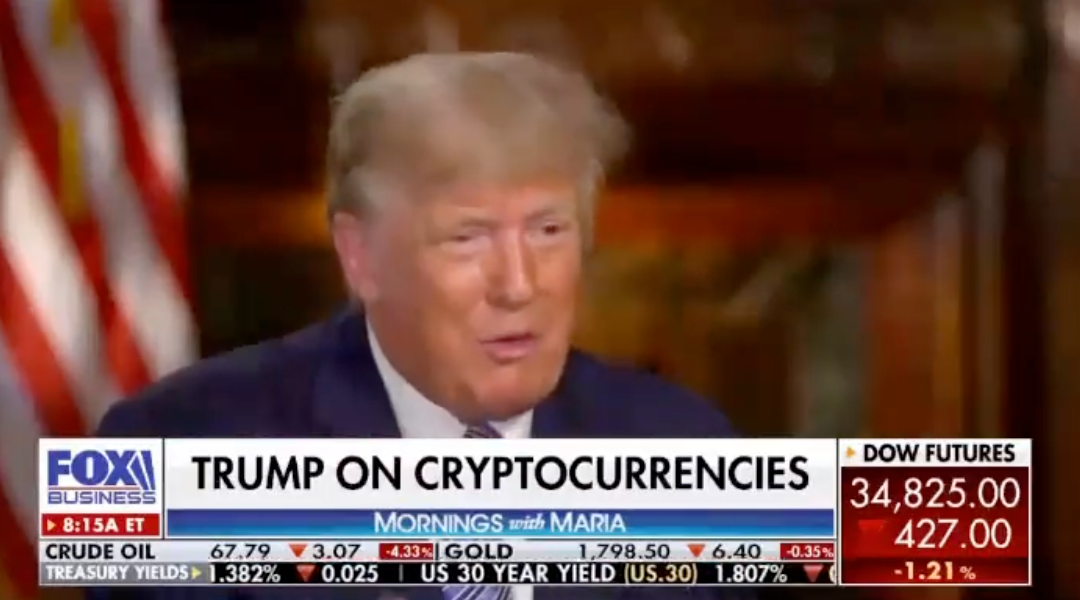 Donald Trump shared that he's not a fan of cryptocurrencies and warned that it's a "very dangerous thing" – in the same interview that he used to promote wife Melania's new NFTs.
When asked what his thoughts are on crypto by Fox News anchor Maria Bartiromo, Trump said: "Well, I never loved it, because I like to have the dollar, I think the currency should be the dollar, so I was never a big fan. But it's building up bigger and bigger, and nobody's doing anything about it."
He continued, "Look, I want a currency called the dollar, I don't want to have all these others — and that can be an explosion someday like the likes of which we've never seen. It'll make the big tech explosion look like baby stuff. I think it's a very dangerous thing."
Sign up to our new free Indy100 weekly newsletter
Only last week, the former first lady Melania Trump entered the NFT, or a non-fungible token, world by selling a watercolour painting of her eyes and a complimentary voice message.
A non-fungible token (NFT) is a unique digital asset that represents ownership of a real-world item.
Crucially, NFTs use the same blockchain technology that powers the same cryptocurrencies he was railing against.
Seemingly oblivious, of his wife's project Trump said "she's going to do great."
For Trump, his current position on crypto puts him at odds with many on the right.
Many mainstream politicians—including the Mayor-elect of New York, Eric Adams, and the Mayor of Florida, Francis Suarez—have also shared their plans to expand cryptocurrency industries in their respective cities.
One of Trump's allies, Roger Stone, just announced he would be selling a Trump autograph NFT to pay his legal and medical bills.
Trump's position has since been mocked by many online.
"Donald Trump slams crypto by saying he prefers USD. Meanwhile, his wife is selling NFTs in exchange for @solana," one wrote.
"Yes let's listen to the guy who thinks that windmills cause cancer," another said.
One tweet read, "I'd give him credit for having the right position, but I'm pretty sure this is just him being terrified of anything that involves computers."
Another referenced his previous admission that he got the Covid-19 vaccine booster shot.
"Pro vaccine, pro booster, anti crypto. Welcome to the resistance, Donald," read the tweet.