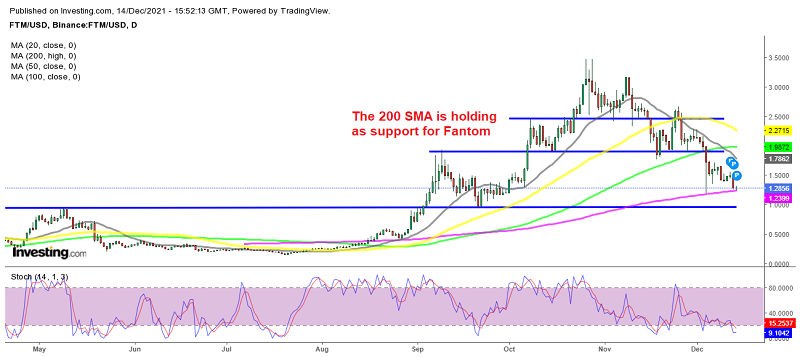 The selloff in the cryptocurrency market continues, with the decline resuming again yesterday, after stalling over the weekend. The reasons for this decline, which started a month ago, are few, as we have mentioned before, such as the continued crackdown on cryptos across the globe, the FED starting to turn hawkish, and therewas also some profit-taking after a strong rally in October. But after the bearish period, cryptocurrencies, such as Shiba Inu and Fantom, are facing some major support levels now, so let's see if they can reverse higher soon.
Fantom Daily Chart Analysis – FTM Facing the 200 SMA Lower
Fantom has made some respectable partnerships recently, such as the one with 123swap, which should make Fantom more visible, while the one with the Swiss-Bangladeshi technology house SELISE will bring it further into the mainstream. Such partnerships have been positive for FTM, having kept the trend bullish until a month ago.
But the bearish period in the crypto market since last month has weighed on Fantom as well, which saw it lose almost to-thirds of its value. The price almost reached $3.50 at the end of October, while earlier this month FTM/USD fell to $1.20, where the 200 SMA (purple) stood on the daily chart. That moving average is providing support again today, after the decline yesterday, so Fantom is trying to decide what to do here. This looks like a good place to buy Fantom coins, with a stop below the next support zone which comes at around $1.
Shiba Inu Daily Chart Analysis – Deciding Whether to Reverse Higher at the Support Zone
The support and the 100 SMA continue to hold for Shiba coin
Shiba Inu was one of the most boring cryptocurrencies from June until the beginning of October, when the surge began, which unfolded in two phases. A tweet from Elon Musk and a large whale wallet buying Shiba coins, which could have been Musk for all we know, was enough to send this cryptocurrency surging higher, and gaining more than 1,000% in value.
But the bearish momentum in the crypto market has pulled the price down for Shiba Inu coin, which has lost around two-thirds of its value as well.  The 100 SMA (green) has been holding as support on the daily chart, together with the support zone at around $0.000030, so this looks like a good place to buy Shiba, but I am following the price action to see if it falls further down, to $0.000020 which would be a better entry place.
SHIB/USD