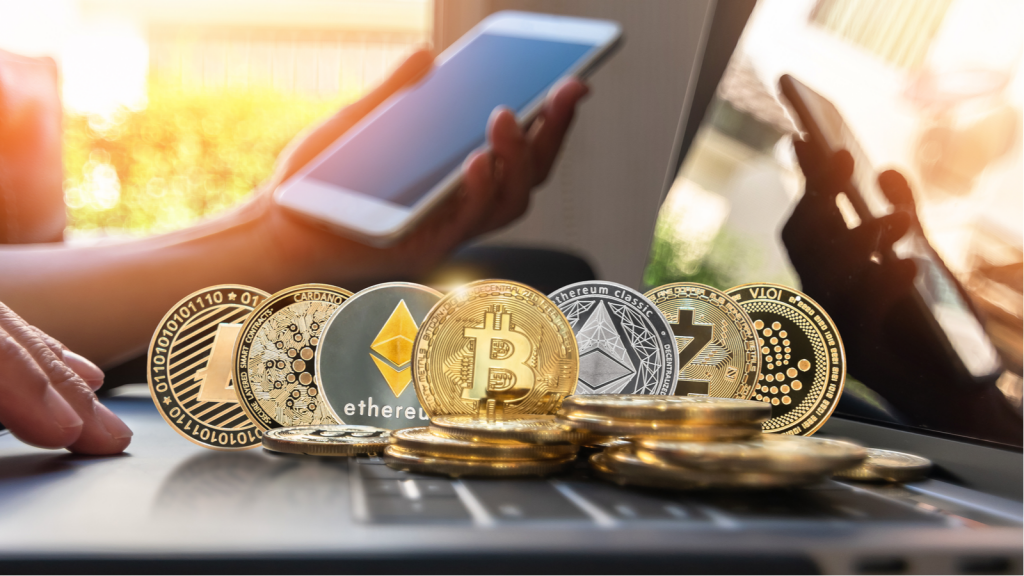 The market declines we've seen this year haven't been good for cryptos. Accordingly, the search for top cryptos to buy may be one that some investors put off. All while they wait for the market to resume its upward trend.
Unfortunately, we've been in a bear market in the world of cryptos for essentially this entire year. It's also been a while since many investors have seen green on their screens. For those who got in near the beginning of this year, it's been a tough ride.
However, as the saying goes, the money is made when "buying low and selling high." True conviction in a long-term bet requires buying when everyone else is selling. As it turns out, the market crash may be just the buying opportunity long-term investors in cryptos have been waiting for.
Could these tokens go down further? Of course. But for those with a long enough investing time horizon, here are three options I think are at least worth a look right now.
Bitcoin (BTC-USD)
Many experts believe that Bitcoin (BTC-USD) is one of the safest long-term cryptos to buy in the sector. Indeed, from a historical perspective, this thesis has held true.
Bitcoin is the oldest and most well-known cryptocurrency out there. With more than a decade of charts to look at with this top token, one thing has always been proven true. Every single serious decline in the past has been met with new all-time highs.
The question many investors have during this bear market is, "Is this time different?"
That's a fair question. After all, the crypto sector hasn't officially been through a recession yet. Bitcoin was born out of the Great Recession. How this token will perform in what may be an upcoming recession remains to be seen.
This token's size and appeal to institutional investors remains a key reason long-term investors hold this crypto. In addition, the number of exchange-traded funds (ETF) that have been set up to provide investors with access to Bitcoin provides this cryptocurrency to access to institutional investors like no other.
For those bullish in the long-term thesis behind crypto, Bitcoin remains the top option retail and institutional investors alike gravitate toward. If we are headed into a protracted stock market crash, this may be the only token many choose first. That's reason enough for most to consider Bitcoin above all other tokens in this market.
Ethereum (ETH-USD)
There's a reason why Ethereum (ETH-USD) seems to always make the list of top cryptos for investors to buy. Whether it's an up market or down market, Ethereum's vast ecosystem continues to operate and generate utility for its users. Indeed, the key underlying growth metrics that support this network provide some of the strongest fundamental reasons to own any cryptocurrency for the long-term.
The world's second-largest cryptocurrency, Ethereum is a decentralized and open-sourced network that deploys smart contracts on a scale like no other. In terms of DeFi, NFT collections and a wide range of other interesting utility-generating projects, Ethereum's network is the lifeblood upon which the vast majority of utility is generated via the blockchain.
A range of altcoins have come about to challenge Ethereum's dominant market position. However, over time, Ethereum's network has held up relatively well. This network's size and scale in and of itself provides some defensive posture for an investor looking to make it through these difficult times.
Additionally, Ethereum's recent massive upgrade, the "Merge," now brings staking to this network alongside an energy consumption reduction of around 99%. For many who were skeptical of the developer talent behind this project, or its carbon footprint, the upgrade could be a catalyst for more investors to jump in.
Binance Coin (BNB-USD)
Binance Coin (BNB-USD) is one of the crypto sector's largest digital currencies in terms of both trading volume and market capitalization. This is also one of the top cryptos to buy, and has the backing of Binance, the world's largest cryptocurrency exchange.
Admittedly, an increasing number of exchanges in this industry are facing financial issues. However, Binance has got the resources to weather any cryptocurrency storms.
In addition, this platform attracts a trading volume of tens of billions of dollars every day across millions of clients. Additionally, this project is involved in a range of other utility-generating functions such as liquidity financing, cryptocurrency derivatives, loans, NFTs, etc.
The BNB token is part of a much broader ecosystem which includes the Binance Smart Chain (BSC). For those unaware, Binance Smart Chain is an independent blockchain network that supports several up-and-coming tokens. More importantly, every trade carried out on the BSC should be settled in BNB. That creates an ever-growing demand for this crypto.
Over the long-term, those looking to build a portfolio may want to start with these mega-cap cryptocurrencies.
On the date of publication, Chris MacDonald has a position in Ethereum. The opinions expressed in this article are those of the writer, subject to the InvestorPlace.com Publishing Guidelines.