MDM offers investors and traders of any experience level a great opportunity to get involved in the crypto markets. Furthermore, if you're looking for an alternative investment to traditional ways of setting money aside for your retirement, then a crypto IRA could be an option to consider, especially if you have the risk appetite for the price volatility digital currencies often display.
An especially attractive feature of the MDM platform is the ability to make cryptocurrency investments and potentially earn tax-free or tax-deferred profits in an IRA. Types of crypto IRAs you can open with MDM include a Simple IRA, a Traditional IRA, a Roth IRA and a Simplified Employee Pension Plan (SEP) IRA.  
If you plan on just trading cryptos, then MDM provides a cash account and an excellent platform with trading tools other crypto exchanges may not offer. The MDM platform also allows you to enter orders away from the prevailing market to limit your risk or to buy digital assets when they've reached your preferred price level. Once you've purchased a digital asset, you can manage your trade by entering a stop-loss order to limit losses on a losing trade or a limit order to take profits on a winning trade.
You also have the choice of entering an order either at a specific price level or as a percentage move in the digital asset. For example, if you bought Bitcoin Cash (BCH) at $275, you could enter a stop-loss order to sell if BCH declined by 10%. Alternatively, you could enter a stop-loss order to sell at the best possible price if the market trades down to $247.50. 
MDM's U.S.-based customer service is unusually reliable and offers a toll-free U.S number. You can also reach MDM's customer service via email by filling out an online contact form with your name, email address and phone number on the company's website. MDM's physical address in Pasadena, California, is listed on its website if you prefer to contact it via mail. 
MDM's customer service was very responsive and promptly answered a query when contacted via its toll-free number. While no online chat option currently exists on MDM's website, you can contact the company via its social media presence on Facebook, Instagram, LinkedIn and Twitter. 
While no monthly fee is charged for MDM's services and platform, MDM does have several fees for both its cash account and crypto IRAs: 
Cash account: The cash account has no setup fee, but you will need to pay a platform transaction fee of 2.15% and a 0.75% custodian transaction fee. 
Crypto IRA:  Setting up a crypto IRA involves a one-time setup fee of $50, and you'll pay the same transaction fees as with a cash account. 
The platform transaction fee covers MDM's comprehensive services that include its investment features and in-person customer care. Keep in mind that the investments offered via MDM investments are not exchange-traded funds (ETFs) but actual cryptocurrencies. 
MDM has three payment options. You can pay directly from your IRA, from your bank account or using your credit card. For more information on MDM's fees, you can click this link, call (877) 833-0927 or send an email to fees@trustetc.com. 
The MDM platform gives beginning traders the opportunity to trade cryptos virtually in a practice trading or demo account. This feature is an excellent way for a novice to get familiar with crypto trading. It also gives a seasoned trader the opportunity to test out new strategies they are considering including in their trading plan. Also, MDM has an ongoing promotion that rewards a $50 cash award for referring a friend. 
Once you've opened an account and begun trading cryptos with MDM, you can closely monitor your positions and receive profit/loss prompts for your portfolio in real-time right on your dashboard. MDM's platform also provides a useful chart of the net gain or loss on your entire portfolio.  
In addition to traditional stop-loss and limit orders that get executed automatically, you can enter a "trigger" order. A trigger order lets you take a profit once your digital asset's price has reached your target level without involving the added risk of a partial or missed execution. Once your target level trades, a market order is triggered that executes your order in full at the prevailing market price. 
With respect to security, MDM has partnered with Genesis Custody, a global leader in digital asset markets, to provide unparalleled military-grade security for your crypto investments. MDM features Hardware Security Module (HSM) cold storage, which is offline storage in former military nuclear-attack bunkers, offering one of the most secure cryptocurrency storage methods available in the digital asset space. 
As an MDM client, you also have the advantage of multiple security levels to prevent unauthorized access to your digital assets. Genesis Custody provides MDM with $600 million in vault insurance to protect client assets from physical loss, theft or damage. One major advantage of MDM's excellent customer service is that it can help you recover your account if you forgot your password without compromising its security.
The MDM platform is intuitive and easy to use even for someone with no trading experience. After you've opened an account, the platform interface will display links to the Dashboard, Portfolio, Trading, Prices and Charts, a Learn section for inexperienced traders and customer support. 
In the trading section of the platform, you're provided with a list of investment options with individual boxes and a buy button. Once you've selected the digital asset you wish to buy, you enter the dollar amount you want to allocate to your purchase and then press the Buy button. 
The MDM platform is ideal for traders and investors at all levels of expertise. If you want a better idea of how well the platform works, you can open a virtual account and start trading cryptos with $50,000 of virtual money.  
My Digital Money vs Competitors
With respect to crypto IRA accounts, MDM compares very favorably to other companies offering similar services. Also, the level of security for your crypto IRA and digital assets may be higher with MDM than elsewhere because of its military-grade cold storage method. Benzinga has compiled a table of how MDM compares with other firms below so you can easily compare these and other features.    
get started
securely through My Digital Money's
website
Best For
Crypto IRA Investors
1 Minute Review
My Digital Money (MDM) is a U.S.-based crypto-trading platform that partners with Equity Trust, a leading provider of self-directed IRAs that has over $20 billion in assets under custody. MDM offers traders considerable advantages over many other cryptocurrency platforms. For example, you can buy digital assets and hold them in an individual retirement account (IRA) or crypto IRA. You can also actively engage in crypto trading in an individual cash account. Your digital assets are well protected with military-grade security, and you can contact MDM's excellent customer service staff who can save you a considerable amount of time and money if a problem arises.   
Best For
Active crypto traders
Crypto IRA investors
Beginning crypto traders
Pros
Combined Bitcoin and cash trading
Cryptocurrency IRA account
Military-grade security
No monthly fees
Practice trading account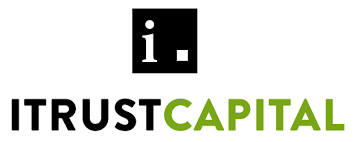 get started
securely through iTrustCapital's
website
Best For
Beginner cryptocurrency investors
1 Minute Review
iTrustCapital is a self-directed IRA provider that gives you the opportunity to invest in cryptocurrencies, gold and silver through your retirement account. iTrustCapital focuses on providing investors with a straightforward and easy-to-understand platform, which can be a major asset if you've never bought or sold alternative investments in the past. 
When you reach retirement age, iTrustCapital allows you to choose whether you'd like to take your disbursements in cash or in the assets you've invested in. Though the platform does offer a limited range of cryptocurrencies when compared to brokers like Coinbase, its simple structure and unique IRA offerings make iTrustCapital a great place to invest.
Best For
Investors who want to add gold, silver or cryptocurrencies to their IRA
Those who are interested in taking a long-term approach to cryptocurrency or metal investing
Beginner cryptocurrency investors
Pros
Straightforward platform allows you to buy and sell assets in a few minutes
Orders clear within 5 minutes
24/7 order placements and portfolio monitoring services
Both live chat and phone customer service service available
Cons
Limited number of cryptocurrencies to buy and sell
No mobile app currently available

get started
securely through Rocket Dollar Retirement's
website
Best For
Experienced Investors
1 Minute Review
Founded in 2018, Rocket Dollar Inc. offers a product that enables its customers to purchase nontraditional or private investments using their individual retirement accounts (IRAs). Investments such as a real estate investment property, cryptocurrencies, a startup company or another type of alternative investment can be made in your retirement account via Rocket Dollar. Rocket Dollar even lets you make investments on a local level that are personally relevant to you instead of just giving your money to a money manager or investing in a public company's stock. Rocket Dollar could suit anyone who wants to use their IRA to invest in alternative assets. 
Best For
Experienced investors
High net-worth individuals
Self-directed investors
Pros
Use retirement funds for alternative investing
Invest in more asset classes than competitors
Both IRAs and 401(k)s are available
Expedited option for funding a deal quickly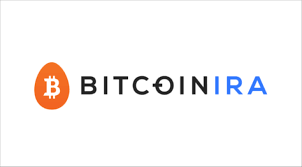 get started
securely through bitcoinIRA's
website
Best For
New bitcoin investors
1 Minute Review
Bitcoin IRA provides a solution for those looking to take their retirement account outside the traditional market. It partners with BitGo Trust to facilitate the setup of an individual retirement account (IRA) and a digital wallet to hold and trade cryptocurrency. Bitcoin IRA offers a proprietary always-on, self-directed trading platform that empowers you to invest in your future. In addition to digital currency, you can also use Bitcoin IRA to purchase gold, another popular alternative asset for savvy investors.
Best For
New Bitcoin investors who have a handle on their overall financial strategy
People who have room in their budget for a $100 monthly contribution for an easy set-and-forget savings and investment strategy
Investors who can tolerate high levels of risk associated with trading crypto and who are able to hold precious metals investments for at least 10 years
Pros
Great rollover options
Investments stored offline for greater security
Easily create an account and digital wallet in under 3 minutes
24/7 trading platform
Cons
Due to U.S law, cannot transfer existing cryptocurrency holdings into a Bitcoin retirement account
No financial advisory or planning services
Cryptocurrencies are still considered an alternative investment, although digital assets are quickly becoming more mainstream as an increasing number of people trade, invest in and make payments using cryptocurrencies. MDM gets an unusually high 4.5-star rating for its platform's ease of use, the high security of crypto asset storage it employs and its excellent educational and crypto news resources. The only downside with MDM is that the company has yet to develop a mobile app, but its platform can be accessed online via an Internet browser using a cell phone or tablet, as well as on a desktop computer. 
My Digital Money Videos
You can check out MDM's YouTube channel for more information about its platform, crypto IRAs and other relevant topics.